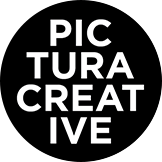 Pay your Pictura Creative Invoice
Credit card payments will incur a 1.75% processing fee. This fee will be added to your payment automatically.
Important Information
Important Information Payments made with a credit, debit or charge card will incur a payment processing fee of 1.75%. This fee will be automatically calculated and added to your payment. To ensure timely processing of your payment, please ensure that you enter your invoice number correctly and in it's entirety.
This form is secure and cannot be read by other people on the Internet. Pictura Creative will only use your information for the express purpose contained in this form.